Ethan Wayne, his youngest son, knows choosing what to keep and what to sell is delicate. The Duke's 'True Grit' Golden Globe and an eye patch from the film are among available items.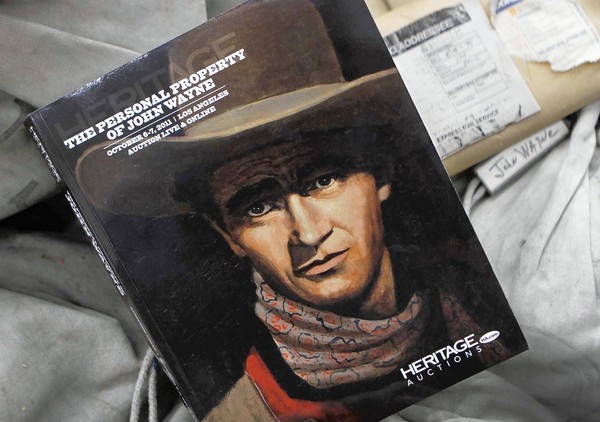 Ethan Wayne, the youngest son of Hollywood legend John Wayne, hates to have anything in his pockets because as a young boy he couldn't go out of the house with his dad without a stack of business cards that read, "Good Luck, John Wayne" on one side and the Duke's name typed on the other side stuffed in his pockets.
"He would always take care of the fans no matter how busy he got," said Wayne, 49, who is named after his father's character in John Ford's influential 1956 western "The Searchers."
"If he couldn't sign [an autograph] or talk to them, they at least got a card," said Wayne. "I would say to him, 'Dad, why do we have to talk to this guy?' He'd say, 'Son, because these are the people who allow me to do what I do.' "
Since 2003, Ethan Wayne has headed John Wayne Enterprises in Newport Beach, which is owned by the Duke's children and grandchildren and whose primary mission is to preserve and protect the image of the larger-than-life movie star. He also has such a large collection of his father's movie memorabilia that he has opened his archives for auction.
"We get phone calls here, not daily anymore, but certainly weekly from fans saying, 'How can I get one of your dad's vests from this film or these films?'" said Wayne, sitting in a conference room at his office. "People have been calling for 32 years. His films affected people and they have a personal relationship with the guy and they want that connection. I remember how important the fans were to my father."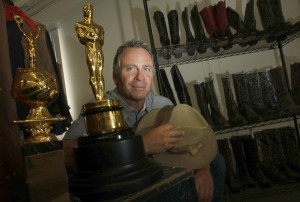 As a result of that continuing interest, Wayne has joined with Heritage Auctions in Dallas to conduct the first single-owner auction from Wayne's personal collection. Public exhibitions will be held in Dallas on Sept. 16-18 and in New York on Sept. 23-26. An exhibit and the auction itself will take place at the Hyatt Regency Century Plaza Hotel in Los Angeles and also online Oct. 3-6.
Among the items being offered are the actor's Golden Globe for "True Grit" — with an estimated value of $50,000 — one of his eye patches from the movie, plus 400 other costumes, scripts, personal documents and awards.
"We tried to create a broad, honest sampling of this guy's life and all the stuff that he kept," said Wayne.
Though the actor most widely known for his westerns died of cancer in 1979 at the age of 72, his popularity remains unparalleled. A Harris poll released earlier this year listed Wayne as America's No. 3 favorite actor after Johnny Depp and Denzel Washington. Wayne won the lead actor Oscar as the wily one-eyed marshal Rooster Cogburn in 1969's "True Grit," and starred in some of the most respected films of the 20th century working with John Ford on such acclaimed movies as 1939's "Stagecoach," 1948's "Fort Apache," 1949's "She Wore a Yellow Ribbon" and 1952's "The Quiet Man." He also appeared in director Howard Hawks' "Red River" in 1948, 1959's "Rio Bravo" and 1962's "Hatari."
Selecting what would be in the auction was a difficult decision, said Wayne, who has worked as an actor and stuntman, and starred opposite his dad in 1971's "Big Jake." "No matter what you do, someone is going to be looking over your shoulder saying that it's great that you are allowing it to go and another person is saying that it's horrible, how can you do that? Yes, the Golden Globe is going but the Congressional Medal of Honor and the Oscar are not going. We are keeping some scripts and letting some go."
Besides the "True Grit" Golden Globe, other high-end items in the auction include a costume from 1949's "Sands of Iwo Jima," which has an opening bid of $20,000; a Stetson cowboy hat from 1953's "Hondo," at $25,000; and an Andy Warhol limited edition signed print from the "Cowboys and Indians" series, also at $20,000.
But not everything on the block will be for the deep-pocketed serious collector. There are a handful of items for the average fan that are valued at less than $100, including two lapel buttons reading "I Have True Grit" that have an opening bid of $25, a "True Grit" mouse ornament that is going for $55 and a group of cocktail glasses from the 1960s that have a current bid of $100.
Ethan Wayne said that he believes his dad still resonates with fans around the world not only because of his movies "but he was also liked personally. People knew he was the same kind of guy off screen as he was on screen. You can sense that about him. He never got bogged down with the darker side of his life."
For the younger Wayne, the bond went much deeper. "This was an outdoor adventurous guy who lived life to the fullest. I lived with my father until the day he died. I drove him to the hospital and I held his hand when he took his last breath. He was a good friend of mine. I have my memories of times with a great coach."
For more information about the auction go to http://www.entertainment.ha.com.

By Susan King, Los Angeles Times