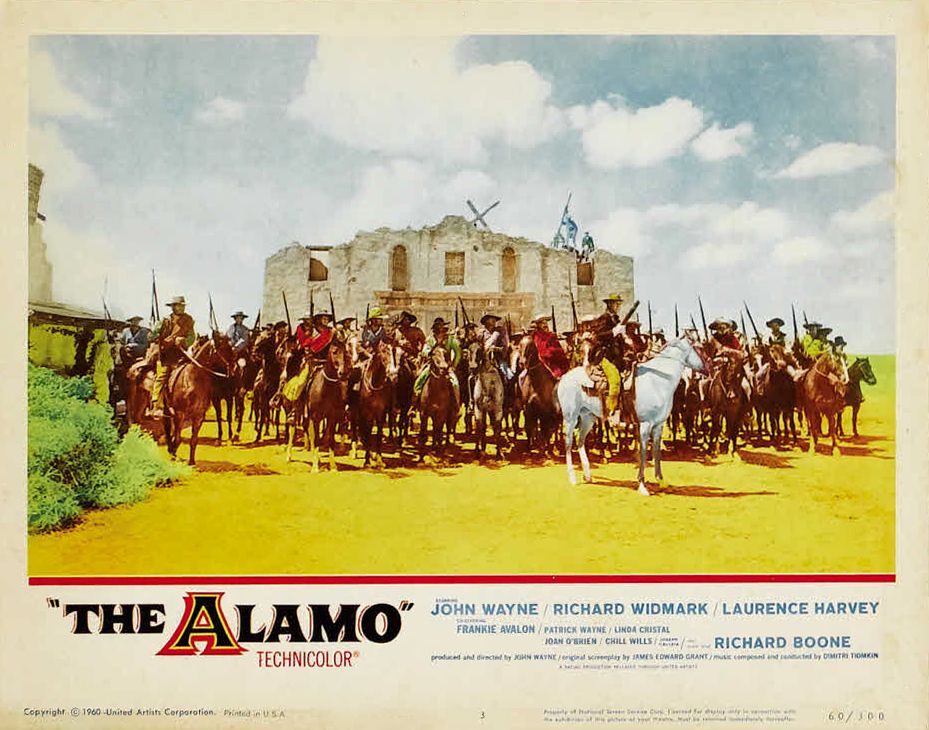 John Wayne was obsessed with the Alamo. It was a dream he had lived with for decades. He seemed to be driven to make a movie about the overwhelming battle of Texas with General Santa Anna. Some say he wanted to make a political statement. What ever the reasons which drove him, the Alamo was the vehicle.
Wayne not only produced and directed he acted in the movie, playing Davy Crockett. His health suffered and he began to show preliminary signs of the lung cancer that was later going to cost him one of his lungs.
Wayne went out on a limb financially with the Alamo. At the time of it's making, the Alamo was the most expensive picture ever made. It did well in box office by the standards of the day, but nowhere near the initial amount needed to recoup the cost to make it. Wayne found himself in financial trouble.
The Alamo was given a number of Oscar nominations, but only won one..for "best Sound". Adding insult to injury, it hadn't even been nominated for best actor or director. This was 1960 and politics were alive and well in Hollywood. Wayne was an active supporter for Nixon and outspoken. Not a popular place to be in Hollywood.
The fact is it really didn't matter. The Alamo was not a bad movie, but it was not "The Ten Commandments" either. It just cost more. It was long, over 3 hours. It had big speeches and was wordy in spots. The action was good, but that didn't matter to Hollywood. It wasn't perfect and it was made by John Wayne. The only way John Wayne could have beat the Hollywood crowd would have been to make a perfect movie. He didn't. He made a good one. A movie good enough for several Oscar nominations and one win. Some people forget the number of nominations this movie received because all the big categories were not included. But It was nominated for best picture, which was an achievement in itself.
While many remember the battle of the Alamo, many don't remember what happened after the battle. At the Alamo 189 men stood up to a force of 4,000. The actual battle took 13 days. Santa Anna lost over 1600 men. The defenders of the Alamo killed nearly ten to one. Along with the battle known as the Goliad massacre, the Battle of the Alamo became the cornerstone and war cry for future battles.
Forty-six days later, on April 21, 1836 at the Battle of San Jacinto, 783 men led by General Sam Houston defeated 1,500 Mexican troops. The battle lasted only eighteen minutes. Cries of "Remember the Alamo" and "Remember Goliad" were reportedly heard. When all was over, 630 men of the Mexican army were dead; 730 were prisoners. Nine Texans lost their lives. General Santa Anna, disguised as a peasant, was captured the following day.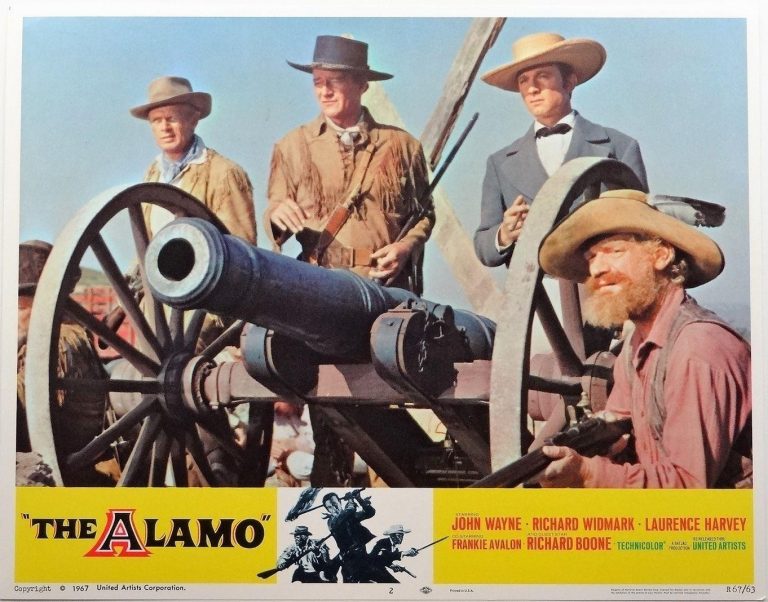 While many believe John Wayne made "The Alamo" for political reasons, I do not. True, Wayne made political hay during the ad campaign for the Alamo, but I am certain his basic motivation to create this movie originally was the story. When you realize the heroics of the men that stood at the Alamo, I have to believe that Wayne felt it was a great story that needed to be told. Politics, both nationwide and Hollywood, ended up getting into the middle of this movie and it cost Wayne greatly. But the movie was made and will always remain.
I believe these 189 men are the main reason John Wayne made this movie. They all believed in the basic cause of freedom. All were given a chance to leave before the beginning of the 13 day siege. Only one did. These are the ones who stayed.
The men of the Alamo:
1.ABAMILLO Juan – Texas
2.ALLEN R. – unknown
3.ANDROSS Mills DeForest – Vermont
4.AUTRY Micajah – North Carolina
5.BADILLO Juan A. – Texas
6.BAILEY Peter James – Kentucky
7.BAKER Isaac G. – Arkansas
8.BAKER William Charles M. – Missouri
9.BALLENTINE John J. – unknown
10.BALLENTINE Robert W. – Scotland
11.BAUGH John J. – Virginia
12.BAYLISS Joseph – Tennessee
13.BLAIR John – Tennessee
14.BLAIR Samuel C. – Tennessee
15.BLAZEBY William – England
16.BONHAM James Butler – South Carolina
17.BOURNE Daniel – England
18.BOWIE James – Tennessee
19.BOWMAN Jesse B. – Arkansas
20.BROWN George – England
21.BROWN James – Pennsylvania
22.BROWN Robert – unknown
23.BUCHANAN James – Alabama
24.BURNS Samuel E. – Ireland
25.BUTLER Geoge D. – Missouri
26.CAMPBELL Robert – Tennessee
27.CANE John – Pennsylvania
28.CAREY William R. – Virginia
29.CLARK Charles Henry – Missouri
30.CLARK M.B. – unknown
31.CLOUD Daniel William – Kentucky
32.COCHRAN Robert E. – New Jersey
33.COTTLE George Washington – Tennessee
34.COURTMAN Henry – Germany
35.CRAWFORD Lemuel – South Carolina
36.CROCKETT David – Tennessee
37.CROSSMAN Robert – Massachussetts
38.CUMMINGS David P. – Pennsylvania
39.CUNNINGHAM Robert – New York
40.DARST Jacob C. – Kentucky
41.DAVIS John – Kentucky
42.DAY Freeman H.K. – unknown
43.DAY Jerry C. – Missouri
44.DAYMON Squire – Tennessee
45.DEARDUFF William – Tennessee
46.DENNISON Stephen – England
47.DESPALLIER Charles – Louisiana
48.DICKINSON Almeron – Tennessee
49.DILLARD John H. – Tennessee
50.DIMPKINS James R. – England
51.DUEL Lewis – New York
52.DUVALT Andrew – Ireland
53.ESPALIER Carlos – Texas
54.ESPARZA Gregorio – Texas
55.EVANS Robert – Ireland
56.EVANS Samuel B. – New York
57.EWING James L. – Tennessee
58.FISHBAUGH William – Alabama
59.FLANDRES John – Massachussetts
60.FLOYD Dolphin Ward – North Carolina
61.FORSYTH John Hubbard – New York
62.FUENTES Antonio – Texas
63.FUQUA Galba – Alabama
64.FURTLEROY William H. – Kentucky
65.GARNETT William – Tennessee
66.GARRAND James W. – Louisiana
67.GARRETT James Girard – Tennessee
68.GARVIN John E. – unknown
69.GASTON John E. – Kentucky
70.GEORGE James – unknown
71.GOODRICH John Calvin – Tennessee
72.GRIMES Albert Calvin – Georgia
73.GUERRERO Jose Maria – Texas
74.GWYNNE James C. – England
75.HANNUM James – unknown
76.HARRIS John – Kentucky
77.HARRISON Andrew Jackson – unknown
78.HARRISON William B. – Ohio
79.HASKELL (HEISKELL) Charles M. – Tennessee
80.HAWKINS Joseph M. – Ireland
81.HAYS John M. – Tennessee
82.HERNDON Patrick Henry – Virginia
83.HERSEE William D. – England
84.HOLLAND Tapley – Ohio
85.HOLLOWAY Samuel – Pennsylvania
86.HOWELL William D. – Massachussetts
87.JACKSON William Daniel – Ireland
88.JACKSON Thomas – Ireland
89.JAMESON Green B. – Kentucky
90.JENNINGS Gordon C. – Connecticut
91.JOHNSON Lewis – Wales
92.JOHNSON William – Pennsylvania
93.JONES John – New York
94.KELLOG Johnnie – unknown
95.KENNEY James – Virginia
96.KENT Andrew – Kentucky
97.KERR Joseph – Louisiana
98.KIMBALL (KIMBLE) George C. – New York
99.KING William P. – unknown
100.LEWIS William Irvine – Virginia
101.LIGHTFOOT William J. – Virginia
102.LINDLEY Jonathan L. – Illinois
103.LINN William – Massachussetts
104.LOSOYA Toribio D. – Texas
105.MAIN George Washington – Virginia
106.MALONE William T. – Virginia
107.MARSHALL William – Tennessee
108.MARTIN Albert – Rhode Island
109.McCAFFERTY Edward – unknown
110.McCOY Jesse – Tennessee
111.McDOWELL William – Pennsylvania
112.McGEE James – Ireland
113.McGREGOR John – Scotland
114.McKINNEY Robert M. – Ireland
115.MELTON Eliel – Georgia
116.MILLER Thomas R. – Tennessee
117.MILLS William – Tennessee
118.MILLSAPS Isaac – Mississippi
119.MITCHUSSON Edward F. – Virginia
120.MITCHELL Edwin T. – Georgia
121.MITCHELL Napoleon B. – unknown
122.MOORE Robert B. – Virginia
123.MOORE Willis – Mississippi
124.MUSSELMAN Robert – Ohio
125.NAVA Andres – Texas
126.NEGGAN George – South Carolina
127.NELSON Andrew M. – Tennessee
128.NELSON Edward – South Carolina
129.NELSON George – South Carolina
130.NORTHCROSS James – Virginia
131.NOWLAN James – Ireland
132.PAGAN George – Mississippi
133.PARKER Chistopher – Mississippi
134.PARKS William – North Carolina
135.PERRY Richardson – unknown
136.POLLARD Amos – Massachussetts
137.REYNOLDS John Purdy – Pennsylvania
138.ROBERTS Thomas H. – unknown
139.ROBERTSON James – Tennessee
140.ROBINSON Isaac – Scotland
141.ROSE James M. – Virginia
142.RUSK Jackson J. – Ireland
143.RUTHERFORD Joseph – Kentucky
144.RYAN Isaac – Louisiana
145.SCURLOCK Mial – North Carolina
146.SEWELL Marcus L. – England
147.SHIED Manson – Georgia
148.SIMMONS Cleveland Kinlock – South Carolina
149.SMITH Andrew H. – Tennessee
150.SMITH Charles S. – Maryland
151.SMITH Joshua G. – North Carolina
152.SMITH William H. – unknown
153.STARR Richard – England
154.STEWART James E. – England
155.STOCKTON Richard L. – Virginia
156.SUMMERLIN Spain – Tennessee
157.SUMMERS William E. – Tennessee
158.SUTHERLAND William D. – Alabama
159.TAYLOR Edward – Tennessee
160.TAYLOR George – Tennessee
161.TAYLOR James – Tennessee
162.TAYLOR William – Tennessee
163.THOMAS B.Archer M. – Kentucky
164.THOMAS Henry – Germany
165.THOMPSON Jesse G. – Arkansas
166.THOMSON John W. – North Carolina
167.THRUSTON John M. – Pennsylvania
168.TRAMMEL Burke – Ireland
169.TRAVIS William Barret – South Carolina
170.TUMLINSON George W. – Missouri
171.TYLEE James – New York
172.WALKER Asa – Tennessee
173.WALKER Jacob – Tennessee
174.WARD William B. – Ireland
175.WARNELL Henry – Arkansas
176.WASHINGTON Joseph G. – Tennessee
177.WATERS Thomas – England
178.WELLS William – Georgia
179.WHITE Isaac – Kentucky
180.WHITE Robert – unknown
181.WILLIAMSON Hiram J. – Pennsylvania
182.WILLS William – unknown
183.WILSON Davis L. – Scotland
184.WILSON John – Pennsylvania
185.WOLFE Anthony – England
186.WRIGHT Claiborne – North Carolina
187.ZANCO Charles – Denmark
188.JOHN, black – unknown
189.JIMINES Damacio – Texas
REMEMBER THE ALAMO !
By: N. J. HIRSCH