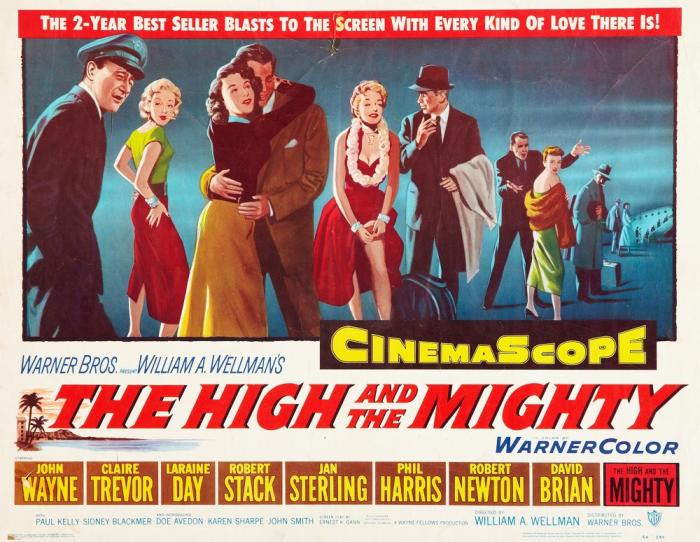 Before Airport, and before Airplane, was "THE HIGH AND THE MIGHTY". Most think that the comedy "Airplane" movie was based losely on "Airport". When you watch "High and the Mighty" you realize it was partly based on this movie.
As the story opens, you learn John Wayne is co-pilot Dan Roman. He had been a full pilot previously, but he had been in a major crash. A crash which left him with a bad leg, and had killed his wife and child. He now flies co-pilot for an airline and his pilot is (surprise) Robert Stack.
As the movie progresses, you learn the stories of all the passengers and crew in flashback. Claire Trevor, Paul Fix, and Loraine Day make up some of the major players. Other passengers on the flight are familiar character actors if you are old enough to remember such TV shows as "Mr. District Attorney".
As the story unfolds the plane faces major disaster. Weather, mechanical trouble, all the usual foibles. How the passengers, and crew deal with it as they try to get down, is the story.
"THE HIGH AND THE MIGHTY" was in fact an incredibly good movie for its time. To enjoy it now, you must ignore the prop-driven airplane and remember that it was modern 43 years ago in 1954. You also have to remember that 1954 was a completely different time from now. The major concerns of some of the characters, the manner in which they address their problems and the general tone can only be described today as "Ozzie and Harriet" like.

John Wayne's characterization stands out within the confines of the period. While many of the characters come across as naive, or even somewhat silly, the Duke comes across as , well..The Duke. If you put Airplane aside and watch the movie seriously, you will find it to be a true entertaining experience.
For years this movie remained out of release by the Wayne family. It was reported that the original master had been damaged and was being restored. Several years ago the movie was restored, released and available in DVD. As a non-western, this movie dispels the myth that the Duke was not a good actor. He was in fact an incredible actor, and this movie truly proves that.
Review by: N. J. HIRSCH