THE MAN WHO SHOT LIBERTY VALANCE
The mystery of the 19th century. Which one of these men was the man who shot Liberty Valance? Anyone who has seen the movie knows for sure. One did it, and one got the credit. Not to mention the girl, and a career.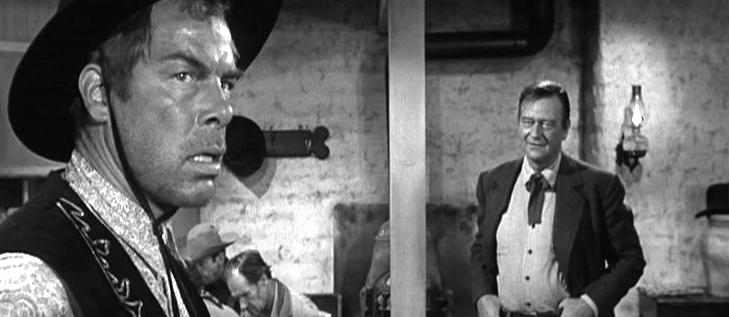 "The Man Who Shot Liberty Valance" was probably one of the best movies John Wayne ever made. This was the film where the term "PILGRIM" became associated with John Wayne. Jimmy Stewart was the tenderfoot, and was called "pilgrim" by the Duke throughout the movie.
The story opens with Senator Ransom Stoddard (Jimmy Stewart) and wife Halley returning to Shinbone to attend the funeral of Tom Doniphon (John Wayne).
Senator Stoddard is known far and wide as "The man who shot Liberty Valance". Valance (Lee Marvin) was a highwayman and terrorist of the town of Shinbone, back in the mid 1800's.
We learn quickly that Doniphon was a rancher and basically an unknown at the time of his death. The local newspapermen cannot understand why this unknown man would attract the attention of the Senator. From the outset, it is clear something else is going on here. In flashback style Stewart tells the story of Liberty Valance and the town of Shinbones early beginnings.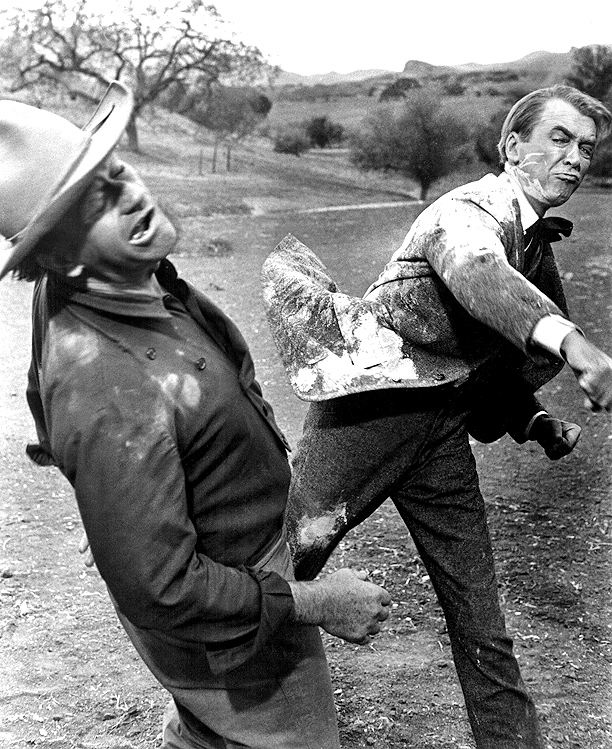 As the story unfolds, we learn that the Senator has been given credit for killing Liberty Valance and yet Doniphon was the real hero. Stoddard has traded on the myth. He won the heart of the girl that Doniphon had loved, and who really loved Doniphon. Stoddard became a successful politician and had gone far. Doniphon, having lost his girl, lost the will to succeed, and died in poverty.
The twists and turns of this movie take some time to realize. It is a story known in song by the same title, "The man who shot Liberty Valance". (which was not part of the movie) This is a movie not to be overlooked by new John Wayne fans, and again revisited by those of us who are.
When you watch this one, take note of the symbolism of the cactus rose. Its significant that Senator Stoddard saw it at the end of the story, sitting on Doniphons coffin.
Review by: N. J. HIRSCH