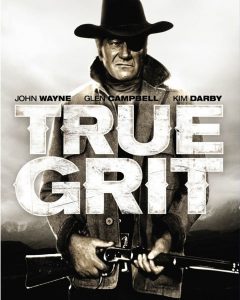 On April 14th, 1970, John Wayne won his only Oscar for TRUE GRIT. It was long overdue.
In the movie Wayne plays Reuben J. "ROOSTER" Cogburn. A drunken old United States Marshal working out of the federal court in Fort Smith Arkansas.
Henry Hathaway directed this movie and it carried many of the elements come to be expected in John Wayne Flicks, including a popular singer in a lead role. Glen Campbell plays (somewhat badly, but it was his first acting role) a Texas Ranger. Kim Darby plays a young girl on a mission of revenge. Robert Duvall plays the leader of an outlaw gang, and the rest of the cast is sprinkled with character actors that are well known today.
As the story unfolds, Darby hires Rooster to hunt down the killer of her father, who is among Duvall's gang. Campbell joins the hunt as the same killer is wanted in Texas. The story is woven with little humorous subplots which make the movie work.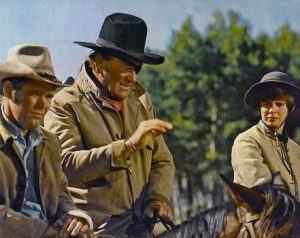 Wayne and Campbell are antagonistic with Wayne calling Campbell a "Texas brush popper" at one point. Also always recurring is the fact that Rooster is a drunk, and his drinking leads to several laughable incidents. Of course when things get tough, Rooster is up for it leading to the famous "Fill your hand you son of a bitch" scene.
Of note is the fact that not only is Wayne's stature noticeable over Campbell, but so is his horse. In several riding scenes it is obvious how much larger than life Wayne and his horse are over Campbell.
No John Wayne fan has to be urged to watch this movie.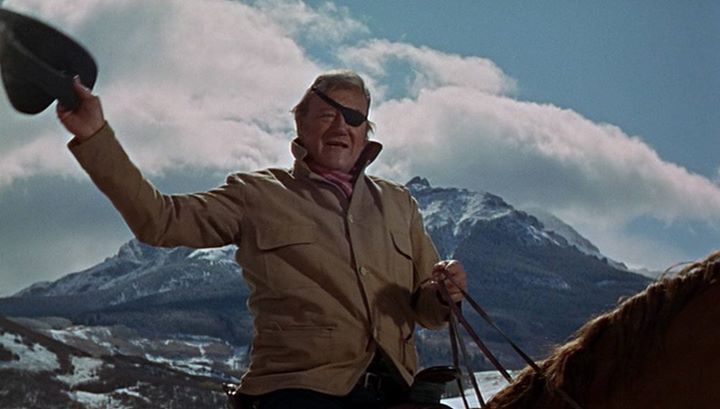 Review by: N. J. HIRSCH