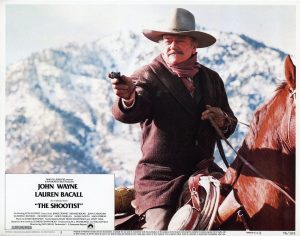 This was John Wayne's final movie. In it he played an aging gunfighter, John Bernard Books. As the story opens, you learn of his past through some clever clips from previous John Wayne movies. He has been a lawman and a gunfighter, and always fought with a "code" he lived by.
"I won't be wronged..I won't be insulted, and I won't be layed a hand on. I don't do these things to other people, and I require the same from them".
Books learns he is dying from cancer. No options. No cure. He only has a short time to get his life in order.
He has decided he will die in the town he nearly died in before, from a gunfight in his younger days. In his mind this is fitting. He wants no trouble, but he knows wherever he goes, trouble follows.
This cast included, Jimmy Stewart, Lauren Bacall, John Carradine, Ron Howard; Harry Morgan, Scatman Crothers, Richard Boone, Hugh O'Brian, and Richard Lenz.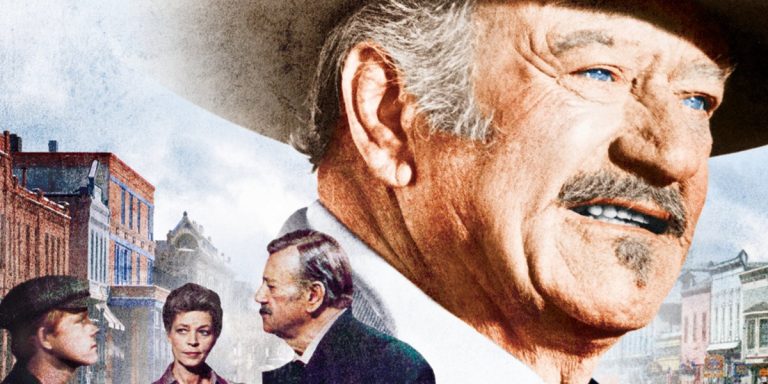 As the story unfolds it becomes clear the cancer is going to be unbearable, as are all Books former enemies. They won't leave him alone. It is also obvious Books has a problem with the owner of the boarding house, whom he has come to like, and her son who has come to idolize Books.
Books knows he must die in a manner he can have peace with that will be befitting a "Shootist". But now he must teach the boy, Gillom , that there is no glory in being a "Shootist" as well.
In the culmination of the story, Books arranges that all of his present enemies meet him in the local gambling hall on his birthday. The place he was nearly killed before. The final shootout and result is inevitable. In one final step to redemption the Shootist takes care that the young impressionable Gillom understands that being a "Shootist" is not the path to follow.
Review by: N. J. HIRSCH