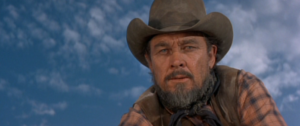 b. June 13, 1918,  Foraker, Oklahoma
d. April 8, 1996,  Mesa, Arizona
Movies together:
3 Godfathers, She wore a Yellow Ribbon, Rio Grande, The Undefeated, Chisum, The Train Robbers
His other films include:
MIGHTY JOY YOUNG
WAGONMASTER
SHANE
FORT BOWIE
MAJOR DUNDEE
WILL PENNY
THE WILD BUNCH
CORKY
JUNIOR BONNER
DILLINGER
THE SUGARLAND EXPRESS
BREAKHEART PASS
THE SWARM
THE HUNTER
RED DAWN
LET'S GET HARRY
MY HEROES HAVE ALWAYS BEEN COWBOYS
His television credits include:
WILD HORSES
DREAM WEST (Mini-Series)
STRANGER ON MY LAND
News articles:
A Tribute to Ben Johnson
Ben Johnson, Oscar winner, dead at 77
Bio:
JOHNSON, BEN (1919-1996). Actor. Of his acting ability, Ben Johnson, Jr., often said, "Everybody in town's a better actor than I am, but none of them can play Ben Johnson." Rodeo cowboy, Hollywood stunt man, actor, and rancher, Ben Johnson was born June 13, 1919, near Foraker, Oklahoma. His father, Ben Johnson, Sr., was a noted Osage County rancher and rodeo champion. The younger Johnson traveled the rodeo circuit in the 1940s and 1950s and in 1953 captured the Professional Rodeo Cowboys Association Team Roping Championship. In 1941 he married Carol E. Jones.
Ben Johnson, Jr., found work at a Hollywood studio in 1943 as a horse wrangler and later became a stunt man. He acted in front of the camera for the first time (uncredited) in 1945 in Abbott and Costello's Naughty Nineties. Mighty Joe Young, a 1949 special effects film in which he appeared, still remains popular.
Better roles followed, many in John Ford-directed films starring John Wayne. Among the more notable were Three Godfathers (1949), She Wore a Yellow Ribbon (1949), and Wagonmaster (1950). Johnson also appeared briefly (uncredited) in the movie version of Rodgers and Hammerstein's Oklahoma! (1955) and later in One-Eyed Jacks (1961) and The Wild Bunch (1969). Johnson's 1971 portrayal of Sam the Lion in The Last Picture Show brought him an Academy Award for Best Supporting Actor. In 1972 he appeared briefly in The Getaway (with Steve McQueen), written by fellow Oklahoman Jim Thompson. In the 1980s and 1990s Johnson acted in television and films intermittently, his performances including a role in My Heroes Have Always Been Cowboys (1991), filmed in Guthrie. His final screen appearance came in 1994.
While ranching in California and Arizona, he played a major role in raising money for Children's Hospital of Oklahoma and Children's Medical Research, Inc., through his sponsorship the Ben Johnson Pro Celebrity Team Roping and Penning, held every year since 1985 at the Lazy E Arena in Oklahoma City. Ben Johnson, Jr., died April 8, 1996, in Mesa, Arizona.
BIBLIOGRAPHY: Daily Oklahoman, 9 April 1996. Ben Johnson, Jr., Vertical File, Rodeo Hall of Fame, National Cowboy and Western Heritage Museum, Oklahoma City. David Thomson, A Biographical Directory of Film (New York: Alfred A. Knopf., 1995). James Vinson, ed., International Dictionary of Films and Filmmakers, 4 Vols. (Chicago: St. James Press, 1986).
– Dianna Everett, Oklahoma Historical Society.
---
Place your craps bets like the duke, with courage and skill. Start beating craps today at the craps games of Casinobonus!