One of two movies John Wayne made in 1963, (The other being McLintock) Donovans Reef was another John Wayne comedy. This one starred John Wayne, Lee Marvin, Jack Warden, Caesar Romero, Elizabeth Allan, and Dorothy Lamour.
The movie centered around three old former navy buddies. John Wayne as "Guns" Donovan, Lee Marvin, as "Boats" GilHooley, and Jack Warden as the "DOC". The movie is set on an Island that the three landed on during the war. They liked it so much that they came back to live when the war was over.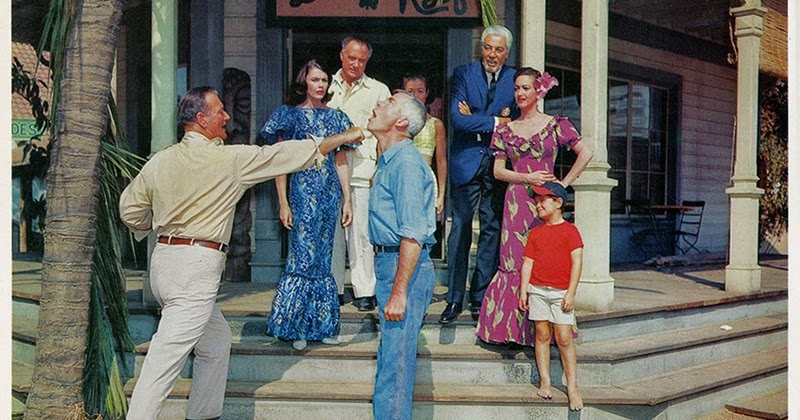 The Doc is now the island doctor for the natives. He had married the Island princess, but is now a widower with 3 native "Americanized" children. As "Guns" Donovan, Wayne owns the local bar, Called Donovans Reef, and is pretty much the lead citizen on the Island. "Boats" Gilhooley continues to roam the world. We learn that "Boats" and "Guns" share the same birthday, and every year "Boats" returns for an annual Birthday brawl with "Guns".
As we begin, "Boats" has again arrived on his birthday. "Guns" and "Boats" have their first confrontation in the bar. Wayne offers his hand in peace and Marvin seems to accept. However in true form, Marvin catches "Guns" off guard and takes the first swing. The brawl is on.
The ensuing fight tears up the bar and both end up in a fish pond by the time "DOC" arrives to put a stop to the donnybrook. Here are a couple pictures as the Doc gets them out of the pond and reprimands both for the juvenile yearly fight.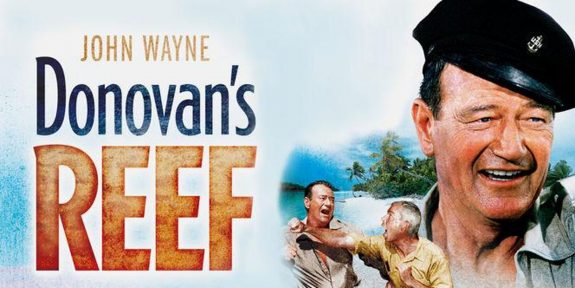 The story complicates when we learn that the Doc had been previously married in Boston Society and has an adult daughter that is the CEO for the family Shipping business. Because of a death, the daughter has to now come to the island to straighten out some legal matters. She knows nothing of her 3 siblings or of the Docs current life. The plot thickens when Wayne, Marvin and the rest of the islanders try to protect the Doc, who is temporarily gone, by pretending that the Docs kids are Wayne's.
From that point the story involves the ins and outs of how they try to continue the charade. Things go from bad to worse right from the start, when the Boston proper daughter arrives and immediately falls into the ocean trying to disembark the boat.
As can be expected "GUNS" becomes immediately infatuated with the young woman, and the plot complications move from there.
Because this wasn't a western, it is often missed by fans. Like North to Alaska, the movie has its moments and is strictly done for laughs. Bar fights abound in true John Wayne fashion.
This is another movie that John Wayne fans new and old need to revisit, or see for the first time.
Review by: N. J. HIRSCH