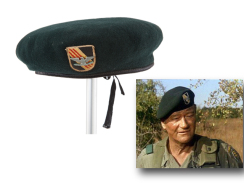 (CBS/AP) LOS ANGELES — Organizers say a two-day auction of more than 700 costumes, scripts, awards and memorabilia from the estate of film star John Wayne brought in $5.4 million.
Heritage Auctions said Friday that the auction included items such as Wayne's last driver's license ($89,625), a holster and gun belt from the film "El Dorado" ($77,675), and an eye patch he wore as the iconic Rooster Cogburn in the 1969 movie, "True Grit" ($47,800).
The highest price went to the green wool beret that Wayne wore in "The Green Berets." It fetched $179,250.
A cowboy hat that Wayne wore in THREE westerns – "Big Jake," "The Cowboys" and "The Train Robbers" – pulled in $119,500.
The Golden Globe trophy he won for "True Grit" went for $143,400.