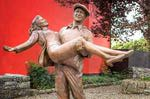 As part of the Cong Festival in County Mayo, Ireland, a statue of Maureen O'Hara and John Wayne from their seminal hit The Quiet Man (1952) was unveiled this past week.
The unveiling of the bronze sculpture at the festival was accompanied by the reading of a letter written by O'Hara herself, wherein she stated that Ireland was never "more majestic than she was in the summer of 1951." She continued her praise for her native land, which she called "the real star of The Quiet Man." The letter was greeted with enthusiastic applause from the festival attendees.
Both a celebration of the country and one of the best movies about Ireland ever made, The Quiet Manstarred Wayne as a former boxer running away from a tragic past and falling in love with a spirited Irish lass whose brother won't give his blessing for their marriage. Directed by John Ford, the film was a big hit in the U.S., where it earned seven Academy Award nominations, winning two including Ford's fourth award for Best Director.
The Cong Festival was formed in 2011 in an effort to celebrate both the 60th anniversary of the film and the town's connection to the film.
Statue of Maureen O'Hara and John Wayne from 'The Quiet Man' (1952)/The Cong Festival