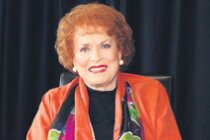 Screen legend Maureen O'Hara's latest act may be her happiest in years.
According to O'Hara's biographer and manager Johnny Nicoletti, her 93rd birthday bash has followed on in the spirit of the highly successful trip she took in May to visit the John Wayne Birthplace Museum in Winterset, Iowa.
O'Hara moved to Boise, Idaho late last year to live a few doors down from her grandson. The move came after claims that she had been the victim of elder abuse by her executive assistant. Legal matters are underway in the case and sources close to O'Hara refuse to discuss them. 
Meanwhile to celebrate her birthday a film festival featuring some of O'Hara's most popular films was arranged at the Egyptian Theatre in Boise. Attendees then had the opportunity to dine with the actress at a sold out benefit dinner.
Nicoletti told Boise State Public Radio that when they returned to Boise from the Iowa visit they decided to do something similar to celebrate O'Hara's birthday.
'And in typical fashion she said well, 'We can't make this about me. If we're all going to get together let's do some good for somebody."
In that spirit O'Hara's birthday celebration raised funds for The Idaho Justice Alliance for Vulnerable Adults (JAVA), a network of organizations and people who work to prevent elder abuse. 
Tickets to attend O'Hara's film screenings and the benefit dinner after went for $150. Meeting the actress went for a $300 ticket.
Nicoletti says over the years O'Hara has championed several causes including aviation safety and artist's rights. 'As she's gotten older, I think she is interested more and more in adult and elder issues because she's one of them.'
Nicoletti added that O'Hara's birthday celebration gave the actress a chance to meet her new neighbors and to say thanks for making her feel welcome in her new home.
Source: IrishCentral