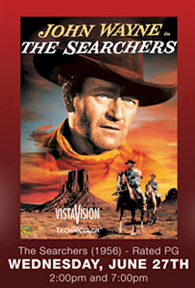 Warner Bros. and Cinemark/Century theaters will be showing John Wayne's 'The Searchers' at select Cinemark/Century theatres across North America next Wednesday (June 27) with two showtimes: 2pm & 7pm (local time).
You can get more details on showtimes and buy tickets to a participating Cinemark/Century theater at http://www.cinemark.com/cinemark-classic-series.
Other classics being shown are Cool Hand Luke, Citizen Kane, North by Northwest, & That's Entertainment.