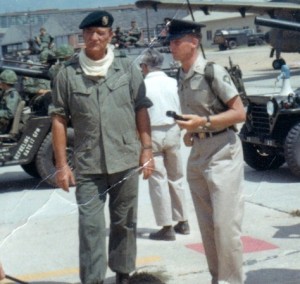 Photographer Barton Mac Leod the actor known as 'The Duke;' who was larger than life. He met him several times and also worked with him on the 1968 film, "The Green Berets."
"The Duke," a.k.a. John Wayne, died 33 years ago, on June 11, 1979.
Wayne died at the age of 72 of lung and stomach cancer, but his many films and his memory live on. The local John Wayne Airport is the first airport ever named for an entertainer.
I met him in the summer of 1968 after he asked for me through the Department of Defense. He wanted someone with experience to help on his movie The Green Berets.
I served on the film as a military advisor, traffic controller, and set photographer. I t remains one of the highlights of my life.
During a lunch years ago at Paramount Studios, he asked me to appear in the filmTrue Grit. But I was unable to make it on such short notice, I now regret that decision.
I was able to keep in touch with him through his personal makeup artist, Dave Grayson, and his wife Paula.
The best thing that Wayne ever said to me was: "You are only as good as your last picture."
I think he continues to be a beloved actor because he is/was as American as apple pie.
I learned over the years that he was good to his staff and fellow actors, two things that made him a favorite to his peers.
While The Duke may be gone, I have kept in contact with one on his staff now in his 90s. His oft-times co-star and fellow actress, Maureen O'Hara, heard about me while she was working with Wayne. Not too long ago, she kindly sent me a signed picture of her from Ireland to me here in Laguna Niguel.
Wayne's films are worth renting, and he's buried in Corona Del Mar, while his old yacht the Wild Goose is still docked in Newport Beach.