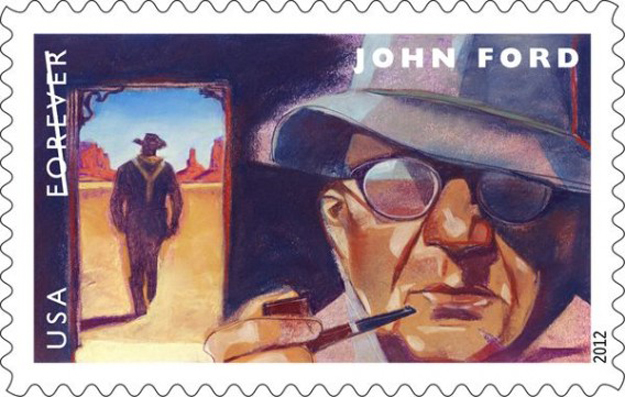 The Cape Elizabeth native is one of four film directors who will be featured in the Forever stamp series next year.
The face of a Maine native who became a Hollywood legend will appear on a postage stamp next year.
Award-winning film director John Ford, born John Martin Feeney in 1894, is one of four film directors to be featured on the U.S. Postal Service's Forever stamp series in 2012. Frank Capra and John Huston will also be featured, with the name of the fourth director to be announced later.
The film directors series was selected from tens of thousands of stamp-design suggestions submitted to the post office each year, a spokesman said. Of these, about 25-30 images are selected for use on postage stamps.
The Ford stamp was illustrated using pastel pictures created by artist Gary Kelley of Cedar Falls, Iowa, and was designed by Derry Noyes, an art director under contract with the post office.
Ford, the son of Irish immigrants, was born in Cape Elizabeth and raised on Sheridan Street on Munjoy Hill in Portland.
He was baptized at St. Dominic's Roman Catholic Church in Portland, where he served as an altar boy; and was a successful athlete at Portland High School.
He graduated in 1914, moved to Hollywood in the footsteps of his older brother Francis, and changed his last name to Ford, as his brother had done. Francis Ford would later be cast in John Ford films including "The Quiet Man," and "Young Mr. Lincoln."
Considered to be one of America's greatest filmmakers, Ford won Best Director Academy Awards for "The Informer," "The Grapes of Wrath," "How Green Was My Valley," and "The Quiet Man." He also made two Oscar-winning World War II documentaries: "The Battle of Midway" and "December 7th." In total, he directed more than 130 films.
Ford died at age 79 of colon cancer in 1973. He is buried at Holy Cross Cemetery in Culver City, Calif.
A bronze statue of Ford is located at Gorham's Corner, at the intersection of Danforth, Pleasant, York and Center streets in Portland; and the auditorium at Portland High School is named after him.