Here are some quick facts about John Wayne!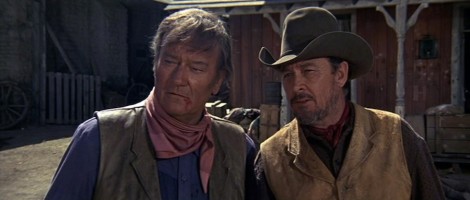 He was born Marion Robert Morrison but it was changed when his brother was born to Marion Michael Morrison
His nickname was-Duke
He was born May 26, 1907 Winterset, Iowa
His parents were Clyde Morrison & Mary Brown
His brother was Robert Morrison
His religion was Presbyterian but he converted to Roman Catholic
He was 6'4" and had brown hair and blue eyes
He went to school at Glendale High School, California and later attended the University of Southern California where he played football
There is much debate on which movie to credit as his first but most sources will agree that "Words and Music-1929" was his first on screen credit
The last movie he made was "The Shootist-1976"
He was nominated for 2 film awards (Sands of Iwo Jima and True Grit) but he finally won an Oscar for the part of Rooster Cogburn in "True Grit-1969"
He directed the movie "The Alamo" at a cost of $12,000,000 +
He is buried at the Pacific View Memorial Park, Newport Beach, California. He died on June 11,1979 at the age of 72.
His grave marker simply reads:
'Feo, Fuerte y Formal" Spanish proverb meaning
"He was ugly,strong and had dignity"