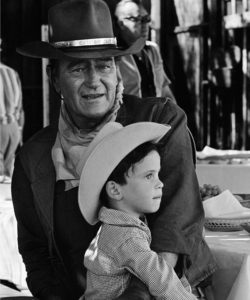 I love movies! I'm even named after a movie, believe it or not! My parents saw a movie titled "Dino" about six months before I was born. In the movie, Brian Keith portrayed a youth counselor, and Sal Mineo was Dino, a troubled youth who was trying to straighten out his life. There was a scene where Keith is looking for Mineo by running up and down alleyways in New York yelling "Dino!" My dad looked at my mom and said "If we have a boy, I would like to name him Dino."
It was my dad who started my love of movies when I was a little boy, mostly by watching Westerns with him, specifically John Wayne movies. Dad and I talked about not only the entertainment value of those Westerns, but the films' inherent magic and their unparalleled ability to transport audiences into a world apart, a complete self-contained universe of the imagination.
So, with that love of films and in particular Westerns, imagine my excitement when I was able to visit the latest exhibit at the National Cowboy & Western Heritage Museum called "Hollywood and the American West." The exhibit features 68 photographs from John R. Hamilton. He had private access to some of the biggest stars in history.
Kimberly Roblin, curator of Archival and Photographic Collections, said the exhibit was organized by John Wayne Enterprises and the John. R. Hamilton Archives.
"It features 68 of Hamilton's photographs and some of his equipment," she said. "Hamilton started out as a photojournalist after World War II, and then received his first film assignment in 1956 on "The Searchers."
" 'The Searchers' sort of launched him on a different trajectory, and the photos that visitors will see have spanned five decades of his work on Western film," she said.
I was completely enthralled and captivated by the photographs in this exhibit. For example, there are wonderful photos from the John Wayne movie "El Dorado."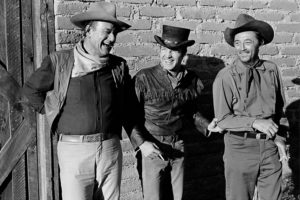 All are "behind the scenes" photos, two of which show John Wayne on set with his very young son, Ethan. The other photo is a shot of Wayne, James Caan and Robert Mitchum laughing heartily at something that had happened between scenes.
Not only are there numerous photos from the "behind the scenes" aspect, but Roblin adds "there are photos that are more artistic. Some cowboys that are backlit by a sunset. And then you also have some that document the logistics, the conditions. How do you feed a crew of 200 in Monument Valley for lunch? Or, how do you film a stage coach sequence?"
One of the many things that impressed me about this exhibit was to find out the 68 photographs are from an archive that is close to 100,000. Also, this exhibit's first stop is at the National Cowboy & Western Heritage Museum.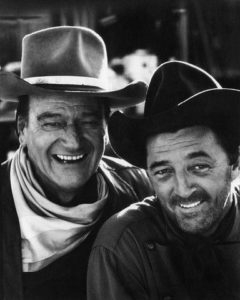 You'll see photos not only of John Wayne, but Kirk Douglas, Kevin Costner, Dean Martin, Sammy Davis Jr., Frank Sinatra, Natalie Wood, famed director John Ford, Steve McQueen, Gregory Peck, Henry Fonda, Ann Margaret, just to name a few. Another one of my favorite photos in the exhibit is of a young Paul Newman. And as I found out, it's the favorite photo of Roblin, too.
"It's called "The New Yorker" because of what he's reading. I love that it's very minimal. It's an actor, in this case a very young Paul Newman, a Spartan dressing room, a magazine and a book of matches, and that's it," she said. "But it automatically pulls you into Newman's world, and I think that's where Hamilton really excelled. Again, he revealed the personalities and not the personas."
And there are other exhibits at the Oklahoma City museum that compliment "Hollywood and the American West." Be sure and visit the Western Performers Gallery where you can see a good deal of props, sets and costumes from Western films, including John Wayne. There's another exhibit called the "Artistry of the Western Paperbacks," and that explores the covers from the 1940s and 1950s Western paperbacks. Another exhibit is called "A Yard of Turkey Red: the Western Bandanna," and in the children's gallery, there's a complimentary exhibit to the museum's "Power and Prestige, Headdresses of the American Plains." It has a lot of interactive and educational opportunities for kids.
The exhibition will remain on display through May 14.
And for a listing of museums across our state, just go to the official website for the Oklahoma Tourism and Recreation Department, www.travelok.com.
Dino Lalli is the producer, co-host and one of the reporters for the travel program DISCOVER OKLAHOMA.
Source: http://newsok.com/hollywood-and-the-american-west-exhibit-returns-to-thrilling-days-of-yesteryear/article/5538134