Are you a fan of The Searchers? Do you live in St. Louis? If you answered yes than you'll not want to miss the Classic Movie Series at the Hi-Pointe Theatre on McCausland Ave.
Here is the dates that The Searchers will be shown:
Tuesday (8/7): 1:30pm
Saturday (8/11): 10:30am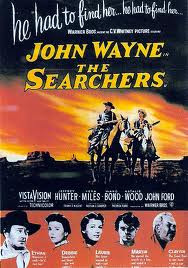 THE SEARCHERS (1956)
Directed by John Ford, based on the 1954 novel by Alan Le May, and set during the Texas–Indian Wars. The picture stars John Wayne as a middle-aged Civil War veteran who spends years looking for his abducted niece (Natalie Wood), along with Jeffrey Hunter as his adoptive nephew, who accompanies him.
Named the Greatest American Western of all time by the American Film Institute in 2008, and it placed 12th on the American Film Institute's 2007 list of the Top 100 greatest movies of all time
119 minutes.
Theatre is located at
Hi-Pointe Theatre
1005 McCausland Ave.
St. Louis MO 63117
http://hi-pointetheatre.com/coming-soon