Acclaimed artist and author Pilar Wayne, the widow of screen legend John Wayne, is set to headline back-to-back benefits for The Hospitality House on June 24 and 25.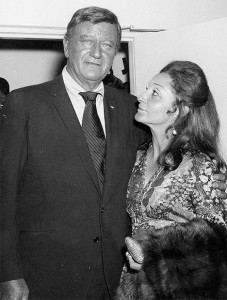 The first event, "Dinner With The Duke," is being held at 7 p.m. Sunday at The Painted Fish Café in Banner Elk, where guests will dine on The Duke's favorite dishes prepared by High Country Chef Tom Jancovich. The menu comes from Pilar Wayne's cookbook of favorite John Wayne foods, and the anecdotes and adventures relayed throughout the book will be told that night between courses.
Highlighting the night will be an exhibit of Pilar Wayne's art, including the first East Coast showing in more than a decade of her original "The Legend," valued at more than $50,000, as well as the chance to bid on Watsonatta Western World's John Wayne Collector's Edition Saddle.
The evening will also include a silent auction of local art, jewelry and gifts. All silent auction proceeds benefit Hospitality House, and 20 percent of Wayne's original artwork sales will go directly to Hospitality House.
The following evening, Banner Elk Winery presents "A Celebration of The Duke." Kicking off at 7 p.m., this evening will showcase Wayne's art, along with local artists' work, around the winery's scenic pond, allowing guests to mingle with the artist, bid on her work and hear firsthand tales of her late husband. Twenty percent of Wayne's art sales go directly to Hospitality House. Southern cuisine from Gadabouts, a silent auction of vacation packages, art and western items, live music by Ruffin Street and complimentary wine and beer round out the evening.
"In our 27 years together, Duke and I traveled the world, but we never got the chance to visit the North Carolina mountains together," Pilar Wayne said. "I was in Asheville a few years ago with my granddaughter and the beauty there was inspiring. As an artist, one always looks to be inspired, so I very much look forward to my upcoming North Carolina visit."
Pilar, who now lives in Newport Beach, Calif., married John Wayne in Hawaii in 1954. They were married 27 years until his death in 1979, and had three children, Aissa, Ethan and Marisa. Since that time, Pilar has remained active in the social and art circles. Her autobiography, "John Wayne, My Life With The Duke," has been turned into a screenplay, and a feature film is in negotiations.
Pilar has been painting since childhood in her native Peru, South America.
"Dinner with The Duke" tickets are $125, and "A Celebration of the Duke" tickets are $50.
Tickets may be purchased by calling Hospitality House at (828) 264-1237 or online at http://www.hospitalityhouseofboone.org.