The general public hasn't seen "Hondo" ride across a wide screen since its initial 1953 release. Even then, most small-town theaters hadn't yet converted to CinemaScope-size projection.
Consequently, most John Wayne fans have only seen the film in the old square format on screens both large and small.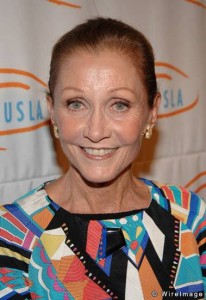 But the Duke's daughter-in-law has finally done something about all that.
"It's really nice to be able to bring it to an audience that gets to see it the way it was intended to be seen," said Gretchen Wayne in a recent phone interview promoting the debut of "Hondo" on Blu-ray, widescreen video format.
She is the keeper of many of her father-in-law's best-loved films as owner and president of Batjac Productions, the independent film company founded in 1951 by John Wayne, and run for 40 years by Gretchen's late husband Michael.
Batjac produced more than 25 films and has retained ownership of such Wayne-starring titles as "McClintock!," "The High and the Mighty" and "Island in the Sky," as well as several non-John Wayne features, including "Seven Men From Now," a 1956 Budd Boetticher-directed Western starring Randolph Scott and Lee Marvin, which made its DVD debut in 2005.
Gretchen Wayne took over Batjac after her husband's death in 2003, and entered into a multi-picture, multiyear distribution deal with Paramount in 2004, supervising the restoration and rerelease of these films for home video.
The Blu-ray release of "Hondo" is another step toward fulfilling her husband's mission to make all of his father's films available to the public.
"And it is one of my favorite films," she said. "It was certainly one of my husband's favorites. And my father-in-law always felt he looked his best in this film. This was his peak in terms of physical appearance."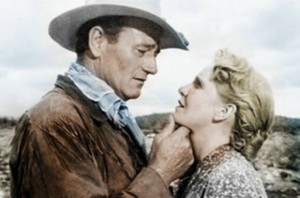 Adapted by James Edward Grant from a Louis L'Amour short story, "Hondo" stars the Duke in the title role of a cavalry scout who happens upon the modest Lowe ranch where he finds strong-willed Angie (Geraldine Page in her screen debut) and her small son Johnny (Lee Aaker of TV's "Rin Tin Tin"), going about their business unaware of hostile Apaches nearby.
The film also stars Ward Bond, Michael Pate and James Arness.
"My husband and I were dating, we were both in high school at the time this film was being made, and he left to go down to Mexico with his brother Patrick to be on location with his dad," Gretchen Wayne recalled. "So I got to hear all the stories about how there hadn't been rain in seven years, and that's why they went down there, to have the beautiful clouds and the sky and not worry about water. And, of course, it rained for the first time in seven years."
Although the Blu-ray edition is presented in 2-D, the film was originally shot in 3-D, which presented its own set of problems at the time.
"It was a challenge when they were making it, because the cameras weren't perfected like they are now," Gretchen Wayne said. "You had two lenses side by side that had to be synced up. The camera was the size of a small truck. It had to be carried on-site to the locations with the wind and the dust. Carmago, Chihuahua, is like a desert, and so it was very difficult on the cameras.
"There's a lot of correspondence between (Warner studio head) Jack Warner and my father-in-law, which is very funny and is in the Warner Bros. museum. 'The cameras are lousy. I'm losing days shooting and I need a camera that works.'
"In the interim, John Farrow, who directed the film, had an obligation to start a new film at a certain date, and that's why John Ford came down as a favor to direct the very last scenes of the film — the Indian fight, when the settlers are leaving and the Indians are attacking."
Having already made her name on Broadway, Geraldine Page found herself in a whole new set of working conditions on the "Hondo" shoot, yet she managed a performance that brought her an Oscar nomination for Best Supporting Actress.
"To come out the door and be nominated for an Academy Award certainly was a major accomplishment," Gretchen Wayne said. "And she truly was a Broadway actress. This was very, very different for her. And then to have to go on location where it was 120 degrees in the shade, and very uncomfortable and no air conditioning, that's a challenge."
John Wayne, of course, was an old hand at rugged location shooting, seemingly as tough as the characters he portrayed. But in real life he was a perfect gentleman, his daughter-in-law said.
"He didn't look for fights or anything. He was very much a gentleman. Very reserved. He never was the kind of person who came into a room and was boisterous or loud. He was always mindful of manners. That was important to him. He never used vulgarity around women. He would apologize if someone else did. But, if it were a group of men — and I have tape to this effect, he did some interviews on tape — sitting with a group of guys, you can imagine. The air got quite blue."
As for Blu-ray, there's more to come from the Batjac vaults.
"('Hondo') is the first of my collection of films that has gone into Blu-ray," she said. "So I'd like to do 'McClintock' and 'The High and the Mighty' next."
The "Hondo" extras include an introduction by Leonard Maltin, commentary by Maltin, historian Frank Thompson and actor Lee Aaker, the documentaries "The Making of Hondo," "From the Batjac Vaults" and "The Apache," a photo gallery and the original theatrical trailer.
BY GENE TRIPLETT Entertainment Editor : http://newsok.com/john-waynes-daughter-in-law-oversees-release-of-hondo-on-widescreen-blu-ray/article/3683733#ixzz1xj1DkSG3