John Ford's 'Fort Apache' on Blu-ray From Warner Home Video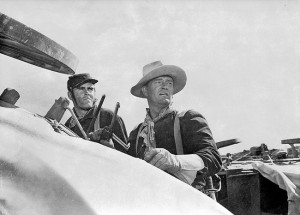 FOR his 1948 "Fort Apache," the first movie in his celebrated cavalry trilogy, John Ford brought together four of the five leading men most closely associated with his career: George O'Brien, the star of "The Iron Horse" (1924), Ford's first major critical and commercial success; Victor McLaglen, whose 12 films with Ford include an Oscar-winning performance in "The Informer" (1935); Henry Fonda, the Tom Joad of Ford's "Grapes of Wrath" (1940); and John Wayne, who first worked with Ford as a prop man and extra in the late 1920s but only became an A-list actor with Ford's "Stagecoach" in 1939.
Conspicuously absent is Harry Carey, the early western star who had given the young Ford his first feature directing assignment with the 1917 "Straight Shooting," and whose dignified underplaying would remain a template for Ford in his direction of actors for decades to come. Carey had died in 1947, a few months after "Fort Apache" began production, a loss that clearly meant a great deal to Ford. He would dedicate "Three Godfathers" (1949) to Carey's memory, and give Carey's son, Harry Carey Jr., a leading role in it.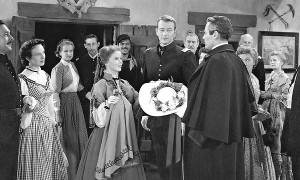 "Fort Apache" is one of the great achievements of classical American cinema, a film of immense complexity that never fails to reveal new shadings with each viewing. It has been the subject of reams of critical discourse, most often fastened on its historical and ideological aspects.
J. Hoberman, in his recent history of Hollywood and the cold war, "Army of Phantoms," finds it an early exemplar of Fortress America, "a vision of total mobilization" in the face of a mounting Communist menace. At the same time it was among the first of the postwar "pro-Indian" westerns. Ford treats his Apache warriors with sympathy and respect, depicting them as fully justified in their revolt against the deceitful and exploitative policies of the United States government (represented by the sniveling Indian agent played by Grant Withers).
But watching the magnificent new Blu-ray edition of "Fort Apache" from Warner Home Video I was struck this time by the film's reflective, inward quality, by its emotional climate of loss and uncertainty. The central conflict is not between military forces but within the community formed by the population of the small, seemingly forgotten outpost.
The movie begins with the arrival of Fonda's Lt. Col. Owen Thursday, a rigidly self-disciplined, West Point-trained officer and Civil War hero who has probably been banished to this remote command because he's a pain to have around the home office. Thursday, who tolerates no deviation from dress codes or classical battle tactics, arrives at his new post with his daughter, Philadelphia (Shirley Temple, now a young woman 11 years after Ford directed her in "Wee Willie Winkie"), and expects her to be a good soldier as well.
His antagonist is Wayne's Capt. Kirby York, a veteran Westerner who knows the ways of the landscape and its people, and who, the film implies, might have expected to take over the command from the retiring Capt. Sam Collingwood (O'Brien). York has too much discipline and sense of duty to show any disappointment, and we repeatedly see him acquiescing without a murmur to Thursday's orders, even when experience tells him that Thursday's textbook tactics will lead only to disaster in the real world of the West.
The historian Richard Slotkin has connected Thursday to Gen. Douglas MacArthur, under whose command Ford had served (and chafed) in the Pacific theater of the recent war. Yet something more than settling a personal beef seems to be at stake here. York, no less than Thursday and Collinwood, is a man who finds himself living in a diminished present, unable to escape the shadow of a heroic past. A sense of stagnation and emptiness has settled in at Fort Apache, which the residents have attempted to fill with social ritual (the film contains two wonderfully filmed formal dance sequences) and domestic warmth.
The real command center of the fort is not Thursday's office but the modest quarters occupied by Sgt. Maj. Michael O'Rourke (Ward Bond) and his wife, Mary (Irene Rich, a great actress of the silent period who had played Mrs. Erlynne in Ernst Lubitsch's 1925 "Lady Windermere's Fan"). The O'Rourkes have a son, Michael (John Agar), who has just returned from West Point as a second lieutenant. He and Thursday's daughter are clearly destined for each other (at the time of the filming Agar was married to Ms. Temple), but Thursday will not even consider the union: there are class differences between commissioned and noncommissioned officers that can't be overcome.
A snob and a racist (he regards the Apaches as "breech-clad savages"), Thursday represents the dead hand of tradition; only by getting him out of the way can the young couple be formed and the future take shape. But Ford, who was 54 when he filmed "Fort Apache," is no less sensitive to the pull of tradition and the weight of the past. To look at the faces of "Fort Apache" is to see his life and already long career (over 100 features and shorts by this point, with some 30 more to go) passing by. Mortality lies in every frame.
At the climax of "Fort Apache" Thursday becomes a victim of his stubborn commitment to the life he has led, unable to escape himself or the institutional history he embodies. There is no honor or purpose in his death, and he takes scores of innocent men with him. Yet, in the film's famously ambiguous coda we find he has become a mythic figure, a martyr to Manifest Destiny with some of the golden glow of George Armstrong Custer.
As in his late masterpiece "The Man Who Shot Liberty Valance" (1962) Ford acknowledges a need for heroes while undermining the notion of heroism; the real significance of "Fort Apache" is contained not in the static historical painting of "Thursday's Last Stand," which is described in great detail in the film, but in the endlessly moving line of anonymous troops we see reflected in a window pane as York, the office's new occupant, looks out. The parade goes by, as it always must and always will, with us or without us. (Warner Home Video, Blu-ray $19.98, previously released DVD $12.97, not rated)
Correction: March 27, 2012
An earlier version of this article misstated how the painting "Thursday's Last Stand" is presented in the film. Also, a picture caption that ran with this article misidentified one of the actors in "Fort Apache." He is Ray Hyke, not John Agar.
By DAVE KEHR