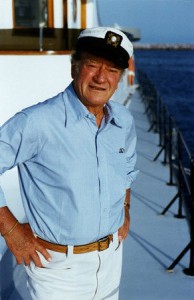 For five days in April our Star of the Month spotlight shines on the legend that was and is John Wayne. Through five decades he was one of the great American icons and Hollywood's biggest box-office star. His popularity endures today, with his name appearing often on lists of all-time greats. Our Wayne festival was programmed by TCM host Robert Osborne, who will be joined in introducing the films by Scott Eyman, who has written for the the New York Times and the Washington Post and is the author of celebrity biographies including John Wayne: The Life and Legend, due out this month.
Wayne enjoyed a versatile career that encompassed more than 175 movies ranging from war movies to romantic comedies, crime thrillers and historical epics. But it is for his Westerns–more than a dozen of which were directed by the master of the form, John Ford–that he is best remembered. Fittingly, our tribute begins with Wayne's first starring role in The Big Trail (1930) and concludes with a Western from his mature period, Big Jake (1971). In between are such Ford/Wayne classics as Stagecoach (1939), Fort Apache (1948) and The Searchers (1956).
Born Marion Robert Morrison in Winterset, Iowa, Wayne entered films in 1926 and served an apprenticeship in serials and low-budget movies before his role in Stagecoach elevated him to major player. Other memorable vehicles over the decades include Without Reservations (1946), Flying Leathernecks (1951) and North to Alaska (1960). His final film was The Shootist (1976), in which he plays a gunfighter dying of cancer, as Wayne himself did in 1979.
http://www.tcm.com/this-month/article/968558|0/John-Wayne-Star-of-the-Month-4-21-4-25.html