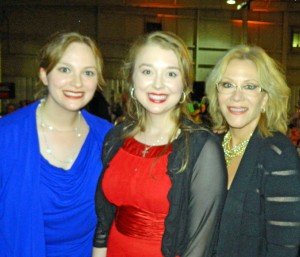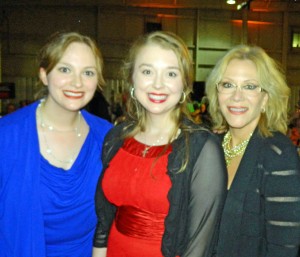 Iowa's Stacie and Carrie Stoelting sang the National Anthem with John Wayne's daughter, Aissa Wayne. The trio sang for screen legend Maureen O'Hara at a sold-out event with hundreds in attendance.
Maureen O'Hara visited Iowa on Saturday Winterset, John Wayne's birthplace. For her final public appearance, the 92 year old actress visited Winterset to help raise money for the construction of the John Wayne Museum.
Famous for films ranging from Miracle on 34th Street to The Quiet Man, Maureen O'Hara has delighted audiences for over 7 decades. She often worked long-time friend John Wayne. Together they made five films together: Rio Grande, The Quiet Man, The Wings of Eagles, McLintock! and Big Jake.
"Stacie and I have enjoyed John Wayne and Maureen O'Hara's movies since childhood. John Wayne loved God and his country; he is a symbol of America. We will always cherish the memory of singing with his daughter for Maureen O'Hara."
The Stoelting sisters are the founders of UniteTheUSA.org. They have sung for leaders nationwide. As Christian recording artists, they released a patriotic Christian album called In God We Still Trust.
Recorded at the Gaither Studios with an orchestra, In God We Still Trust offers a message of faith and freedom. Its mission shines truth and hope to a tired nation: to glorify God, value veterans, and activate patriots of faith. In God We Still Trust is available where albums are sold. If ordered at www.unitetheusa.org , all proceeds fund their outreach.